Mission. It's one of those business buzzwords that seems to be at the center of every conversation. And for good reason — a well-established and concrete mission is one of the most essential elements for a brand's success, particularly in the direct-to-consumer (D2C) category. In fact, mission-based companies outperform in the market, grow twice as fast and attract the best talent (because employees want to work for companies that do meaningful work).
Since mission has been cited as such an important lever for business, it has sparked much discussion among many company executives and brand leaders. But what does mission really mean? How does it guide business decisions? And why is it especially important in today's increasingly direct economy?
Let's get into it.
A mission statement should be an action — it's how brands bring their vision for the world to life; it's why a brand exists beyond making money. To establish a mission, brands should turn internally to investigate what their purpose is and how they make the world a better place. A mission should be something true to the brand in the long term, and serve as a guiding North Star for all business decision-making.
This by no means must be big or lofty, but it does need to be understood by consumers — a company mission must be something consumers can relate to and align with. Consumers are values-driven and in today's economy of endless information and unlimited choices, consumers look less at product features or price and vote with their dollar for brands that make the world a better place. In fact, 63 percent of consumers prefer to purchase from companies that stand for a purpose that reflects their own values and beliefs, and will avoid companies that don't [Marketing Dive, 2018]. To stand out to the consumer, a brand must stand for something.
Having a solid company mission that aligns with consumers is especially important for D2C brands. Here's why: In the past, consumers had a distant relationship with brands. The mainstream brands in consumers' carts were those large corporate giants with mass scale and market domination. The truth is, consumers couldn't relate to them.
Over time, D2C brands have disrupted every single category by being inherently human-centric and relatable. They have stepped off store shelves and directly into the lives of consumers, existing in the cultural zeitgeist and on platforms where consumers also live. Which means, consumers are more interested and willing to engage with these brands more than they ever have been. But they also expect more from these brands. It's essential human-centric brands are authentic and transparent and create value for their consumers by aligning with what they care about most.
Today, it's a truism that having a company mission has beneficial implications on business and appeals to consumers, but has having a mission become too mainstream? A mission statement without action has. It's easy for brands to loosely claim a mission without the groundwork to turn words into action. Many throw around compelling words like "empower" and "motivate," but what do these words actually mean in action? For the brands that live their mission statement, this will never become too mainstream. The more good brands can do for the world and for consumers, the better. As such, 90 percent of consumers say companies and brands have a responsibility to protect the planet and its people [JWT Intelligence, 2018] and 88 percent believe corporations have the power to influence social change [Global Strategy Group, 2016]. Consumers look for brands to lead and to leverage their power and their voice to make a difference. Doing good will never become too widespread.
An excellent example of a brand that has established a company mission and executed it is Patagonia. While Patagonia makes high-quality outdoor clothing, the most important part of their brand is their philanthropy and environmental activism. Patagonia not only talks the talk, but also walks the walk. From donating $100 million to environmental groups since 1985, to operating 72 clothing repair centers, Patagonia is driven to create a world where everyone cares for the environment and is conscious of their impact. They use their business to inspire and implement solutions for the environmental crisis — everything the brand does ladders back up to this foundational mission statement.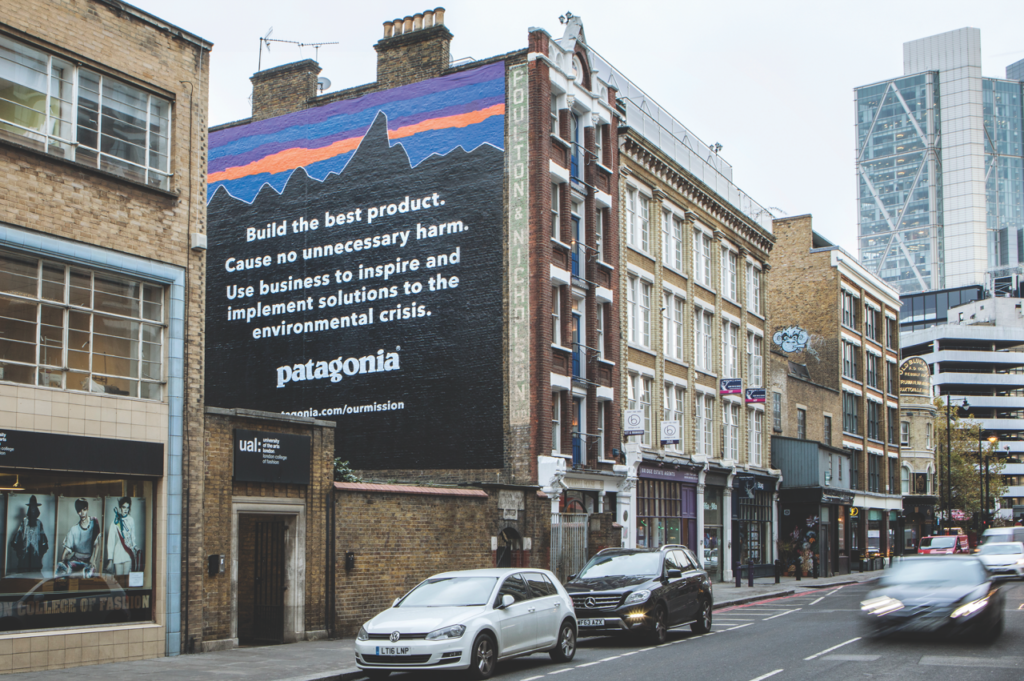 A final word of wisdom for brands: While it's important to have a well-established company mission to guide you, strategic communication of the mission is equally as important. By taking a stand on something meaningful and educating consumers, brands become catalysts for change. When a brand stands for something so true to their core and aligns it with what their individual consumers value, consumers will follow.
***