Influencer marketing is a strategy that's been used by brands and marketers for decades, but the explosion of social media in every aspect of our lives has made this term even more prevalent in the consumer market. In some ways, we may not realize we're being influenced, but even the fictional influencers — trusty Aunt Jemima, the snuggly Michelin Man, the strong but gentle Mr. Clean — have a way of convincing us to trust a brand. And that's what it all boils down to: trust. As consumers, we trust others we can relate to, or those we admire, or those who offer credibility. And when those people offer their stamp of approval to buy a particular brand, we often do.
Over the years, the concept of an influencer has morphed into something that's less subtle but a more impactful method of persuading purchasing habits. In the last handful of years, however, the influencer marketing strategy has evolved even further, this time with the use of social media. Millennials and Gen Zers have changed the marketing landscape with their demand for social validation when purchasing, not to mention their insistence on putting their lives on the internet for everyone to see — often to the chagrin of their baby boomer parents — and brands have taken notice. But it's not just the typical self-made social influencer with 100,000 followers (and just as many selfies), but rather those individuals a brand defines as authentic and genuine to what their brand stands for, then utilizing those people to connect with their customers.
For direct-to-consumer (DTC) brands, this is especially important. Not only is their branding and reputation everything, but empowering influencers who can build trust and encourage others to try their brand is vital to growing their business. In this post, we'll look into three DTC brands who strategically and uniquely capitalize on influencers — whatever definition of influencer their brand has deemed beneficial.
Glossier: Knows who their customers are and makes them the star
Glossier's success, beyond their stellar collection of skin care and beauty products, hinges on the fact they treat everyone like an influencer. They see the untapped potential in their fan base and provide them the means to help convert sales instead of the latest aligned beauty blogger. They still have a bevy of celebrities and influencers touting their products, but the brand's money is behind their followers. And their strategy works — 80 percent of their sales come from peer-to-peer discovery. While using brand evangelists has been around since the beginning of advertising, Glossier has morphed this brand fervor into something more by focusing on the power of the customer above all else. They are the sun in which the Glossier brand revolves.
Glossier recognized they had a slew of social media super fans who used and touted the wide array of beauty products the company offered. To take advantage of these super fans and their enthusiasm, Glossier developed an ambassador program which empowered these fans to become digital marketing reps for the brand. These ambassadors receive new products and are encouraged to share their experiences on social media, which Glossier then features on its own Instagram channel. What's unique about this team of super fans is the size of their following: small. While many brands seek out the influencers with the largest following for the widest possible exposure, including celebrities, Glossier believes something different. These nano-influencers, while having a smaller following, have a more attentive and active base, and they target their content to a niche — so the relevance, and therefore the interest, is exceedingly high. And Glossier treats these nano-influencers' user-generated content just like they would paid influencers by tagging them and calling them out in their channels — which, in return, expands the influencers' following — so everyone wins.
Glossier has identified true word-of-mouth authenticity stems from real people giving their real opinions to other fans and friends, and while their audiences may be smaller, it does add up. And that's what they've built their marketing strategy around.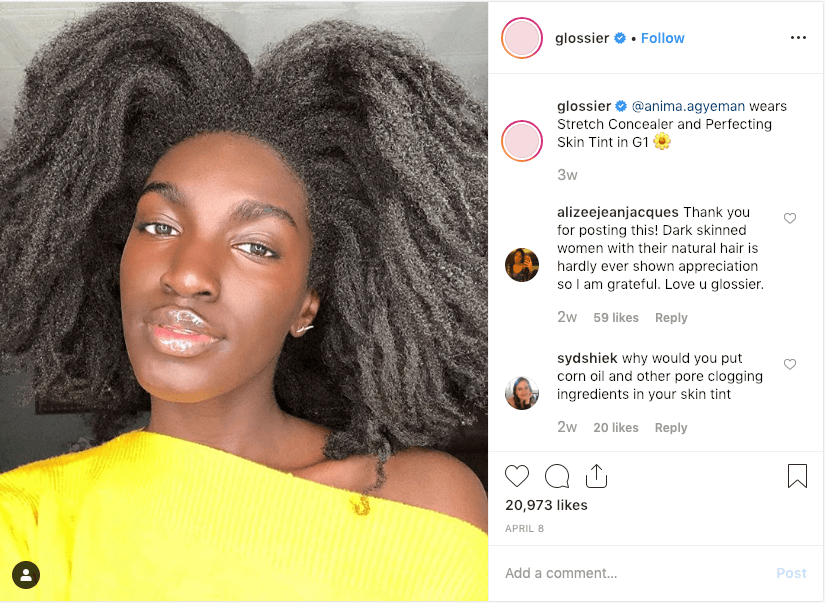 Warby Parker: Find the influencers that already like you and make sure it isn't forced
Warby Parker takes a slightly different influencer approach, identifying a core group of influencers that were also customers. The brand still looks to following size, but that's not the determining factor into #WearingWarby. The main focus is that the influencer must have worn Warby Parker glasses, without it being a sponsored post, in the past. Therefore, they're getting people who genuinely love the brand to be a part of the marketing of it.
Warby Parker has one steadfast rule: All of their current influencers actively wear their product and have been for years. This has blocked out any potential influencers that aren't genuine about their interest in the brand, which helps to drive the authenticity of the influencers and ensures their product is a natural fit. The influencers Warby Parker connects itself to are regular people, like you and me, with day jobs and careers they're passionate about. They're experts in their given fields, writers, artists and everything in between, and this makes them — and Warby Parker – more relatable to the average consumer. The chosen influencers post regularly as part of an ongoing, real life brand story, as opposed to a one-off post here or there which can feel both inauthentic and obligatory. And to keep it fresh, Warby Parker rotates their core influencer partners — for which there were seven in 2018 — and use new voices and fresh perspectives to help tell a bigger story. One that's still being written today.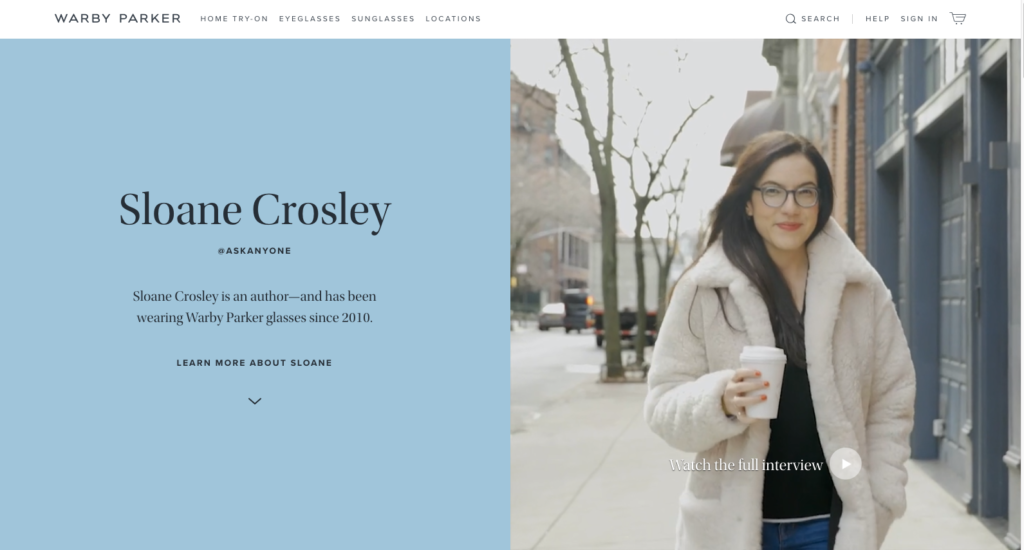 Casper: The influencers take the place of the salesperson
Casper's success story is especially impressive. They sell mattresses — something the consumer will spend a third of their life on for the next 10 years — and want consumers to buy them without ever touching it.
A big ask.
For Casper to overcome the consumer's fear of buying a mattress without trying it first, they need to tap into the power of social proof and peer recommendations. Casper has capitalized on the idea that consumers are more likely to make big-ticket purchases when they get a recommendation from a trusted source. So rather than having consumers rely on the in-person retail sales experience, Casper has offloaded the knowledge the consumer would amass from those interactions to their online content. And by acknowledging the fear many consumers have about buying a mattress without ever having touched it, as opposed to running from it, they've made influencers — and the knowledgeable, authentic content they produce — their new salespeople.
Casper's influential marketing partnerships are thorough. In addition to offering a generous referral marketing bonus — including a $75 Amazon gift card for every successful referral, as well as a 10 percent discount on the purchased product — Casper encourages genuine product reviews and testimonials, which they then prominently feature in varying digital marketing assets. And when consumers get honest reviews from real, credible people — social proof — they're more likely to make the purchase themselves. In the mattress business, demonstrating the product for a potential consumer is critical, and by having their digital influencers do just that on their behalf, Casper has changed the industry and paved the way for other DTC brands to follow — which is precisely what's happened.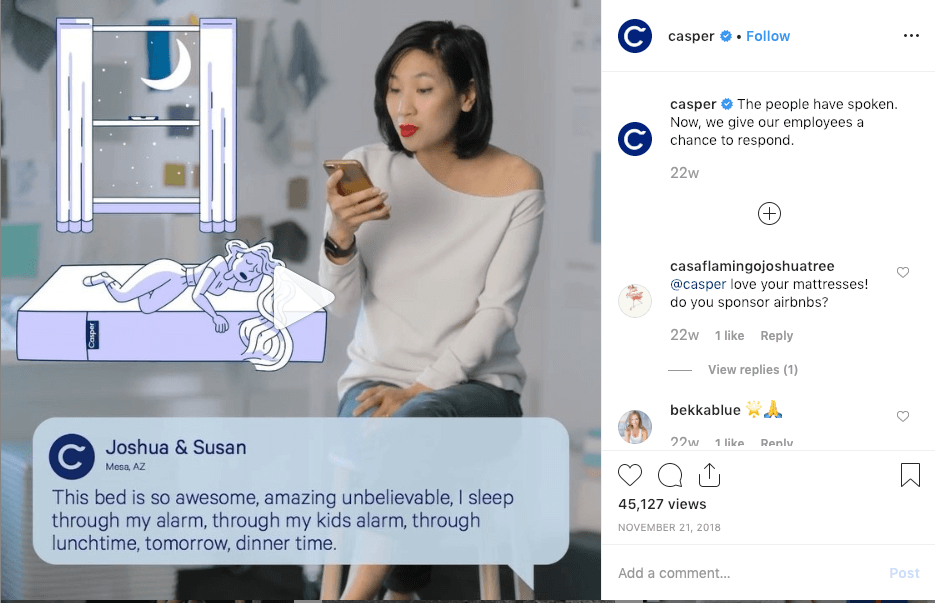 The marketing landscape is continuously evolving, and the positive impact of social influencers on DTC brands is the latest iteration. GYK Antler has evolved too, and part of our core offerings is access to some of the most powerful social influencers. And with our team of social strategists in place to recommend the best fit for our clients' brands, we've seen impressive results. While the marketing landscape continues to evolve as brands and marketers discover new ways to reach consumers, DTC brands — and GYK Antler — will be ready to adapt right along with it. That's the fun of the business.