Article originally shared on Linkedin.
If you're already asking, "why not?" to that headline, then you're probably not going to love what I'm about to say.
These past eight months have made it crystal clear that some of the business practices and behaviors we all used to deem as being necessary are now borderline archaic. And the conventional way most of corporate America has worked for centuries — commuting to an office, every week, Monday through Friday — is one of them.
GYK Antler and so many other companies have proven we can work differently and not only be productive, but also more successful than we ever could have anticipated. Not to mention, our people have told us they feel more connected to one another than before. Our culture has never been stronger. Working remotely has given employees more time to think, find creative inspiration, write in peace and to minimize distractions they might otherwise face in the office. (Read: All bets are off if your kids are temporarily at home like mine. Let's be honest — we're living through coordinated chaos.) Beyond that, taking the commute out of the equation makes room for hopping on that Peloton, catching up on industry news, making breakfast with the family or whatever else helps our people find their balance.
While the pandemic essentially forced everyone to adapt to new ways of working, we've come to not only see this as a silver lining, but also as an opportunity to challenge a traditional way of working and thinking. Because challenging traditional ways of working and thinking is what a creative agency should do.
So, when everything returns to "normal," are we going to join corporate America in referring back to the same old playbook, essentially taking away something our people have come to know as a benefit?
Hell to the NO. We'll never go backward.
We've been listening to our team, speaking with clients and thinking about how we can concept a new philosophy — not just a policy — that's all about our people, productivity and finding the perfect balance of in-person and remote work practices for our company. And while we believe in-person collaboration helps fuel creativity and innovation, and is key to building culture, we don't believe we need to be in the office together every single day.
So with that, I'm sharing GYK Antler's 3-2-1 Hybrid Work Approach with you. Here's how it works: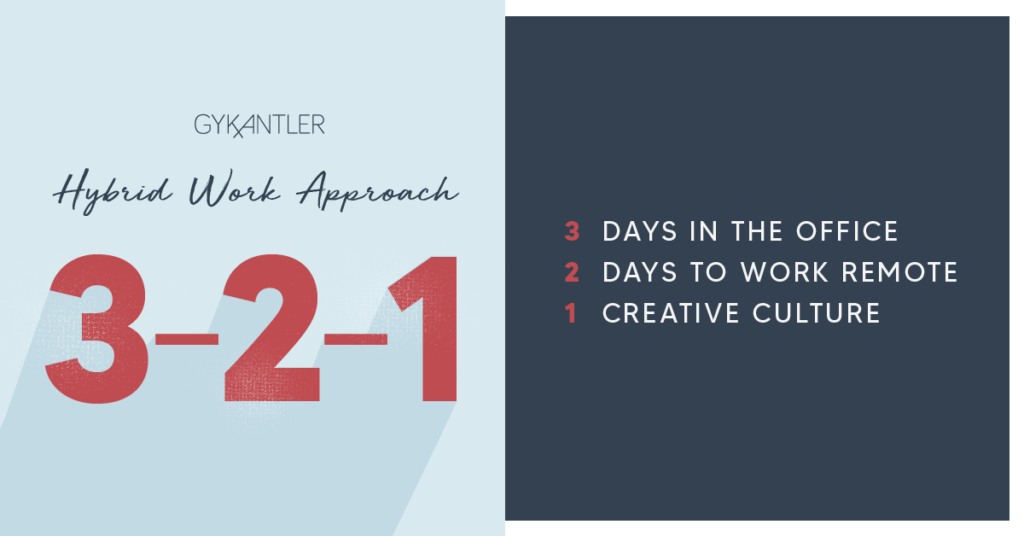 3 — Employees will work in the office three days each week, Tues-Thurs, with everyone gathering in our Manchester, NH HQ on Tuesdays to give us a chance to connect, collaborate and build community.
2 — Employees will work remotely two days each week, Mon and Fri, giving them much-needed time to think, focus and find inspiration.
1 — We'll implement our approach in the spirit of #OneGYKAntler and fostering a creative culture, where we create consistency and alignment across the company and continually provide our people with a dynamic, inspired and balanced employee experience.
This will be our new way of working when everyone has officially been cleared to return to the office together, based on state and CDC guidelines. While none of us know exactly when the "return to normal" will happen, we felt it was important to share this vision with our employees sooner rather than later. There's comfort and clarity in having a date, or a "next step" to work toward.
While so many things are changing around us, one thing we can always control is how we respond and evolve — which is a big part of the reason I'm so proud to work for an independent company like GYK Antler. We can flex and make decisions quickly to ensure our people are happy and our business can perform at its peak. And I'll bet you anything, an updated approach to working is going to be the new imperative for recruiting and retaining talent.
In the next few months, there will, without a doubt, be some push-and-pull as companies try to gain their footing in the post-pandemic world and pick their poison between tried-and-true practices of corporate America or the new ways of the fully remote tech giants. Their talent will be watching. And maybe not waiting around for them to decide.
We'll be focused on continuing to provide our people with a more modern, tailored approach to working that in turn builds a stronger culture, better business performance and superior creative product for our clients.
Did I mention we're hiring?
***