With an overwhelming number of promotional messages that consumers receive on a daily basis, it has become increasingly difficult for brands to stand out and get users to take notice. A key way for brands to cut through that noise is to connect with consumers on a genuine and personal level. Rather than being persuaded by celebrity endorsements and paid influencers, consumers today are looking to their personal network for honest opinions and recommendations for where to visit and what to spend their money on. For this reason, when we were developing the winter 2017 campaign strategy for our client partner, Visit NH, we decided to make Snapchat a key part of the marketing mix to help generate consideration of New Hampshire travel activities among millennials. Since the platform offers users a way to share daily experiences with friends and family, it satisfied the need to authentically connect with our target audience by inserting Visit NH into personal conversations without being intrusive or irrelevant.

Using statewide "takeovers" of Massachusetts and New Hampshire on predetermined dates, the objective of the campaign was to encourage users to continually share custom New Hampshire Snap filters with their personal audiences in order to trigger consideration for visiting the state. Visit NH became integrated into users' personal Snap stories, creating visibility among their friends, family, and fans.

Depending on which state a user was in while using Snapchat, they were given access to one of the two sets of filters—both leveraging different types of messaging. The Massachusetts filters focused on trip inspiration, encouraging the user and their followers to experience New Hampshire for themselves. Using a "wish you were here" style messaging, the New Hampshire filters showcased the user's state pride and encouraged platform followers to join them. The New Hampshire filters predominantly focused on weekend takeovers, while the Massachusetts takeover focused on a workweek audience, to stimulate planning a getaway for the weekend.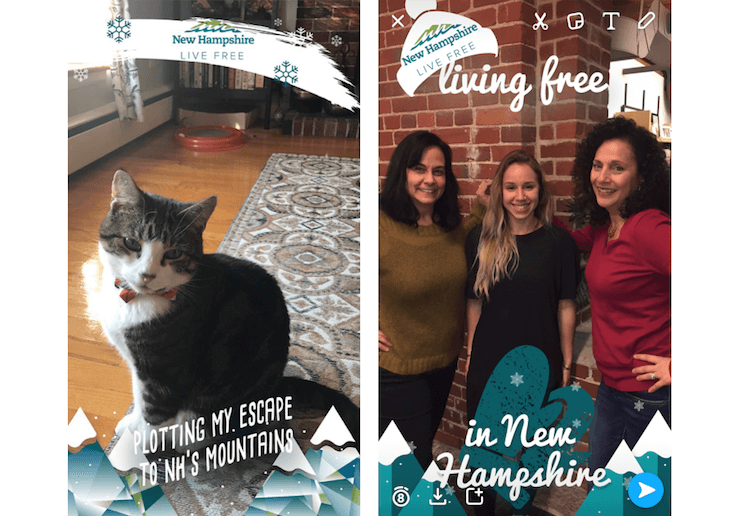 Visit NH's first test of Snapchat was a resounding success, with metrics exceeding goals by 500% and 2,000%. With a cost-per-engagement of $0.08, over 2 million 'swipes,' and 112,000 people who used the custom filters, it was an easy decision to integrate Snapchat into the summer 2017 campaign with similar objectives and tactics. In order to maximize the budget and knowing Massachusetts has higher daily rates, we decided to make our primary focus on a NH-based audience to provide an overall lower cost per use and higher view rate. We also capitalized on holidays, such as July 4th, and peak weekends, which proved to be a successful way to increase uses and connect with people enjoying New Hampshire's limitless summer fun. These strategic campaign modifications resulted in another successful campaign, over-delivering on planned impressions by 794%.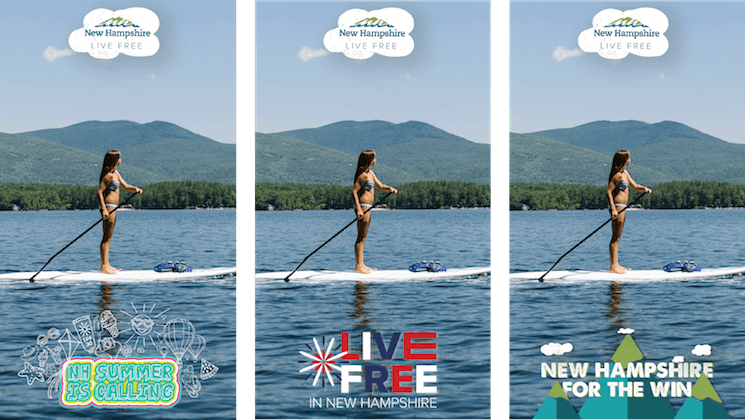 The use of Snapchat geo-filters in both the winter and summer campaigns played an integral role in the overall success of the 2017 NH travel seasons, helping to increase the annual Rooms and Meals Tax revenue for both seasons. Although being one of the first domestic tourism boards to use Snapchat as a part of its marketing mix came with an initial risk, it proved to be worth the return on investment. The platform's popularity among our target audience coupled with its ability to share personal experiences and peer-to-peer dialogues played important roles in inspiring travel to New Hampshire.


Looking to boost your brand's marketing? Drop your info below, and we'll reach out to talk shop.