The holiday season can be overwhelming in many ways for the average American; too many gifts to buy, too many parties to attend and far too many ads to consume. In fact, it has been reported that the average consumer receives over 10,000 brand messages a day and that number only increases during the months of November and December. So, when creating your marketing plans for this time period, it's important to add value within the messaging to minimize risk of becoming just another ad to ignore.
With the inundation of ads and promotional messages that are spewed across every vertical during the holiday season, it becomes imperative to think of interesting ways to connect with your audience on a recurring basis rather than simply using the same spot or messaging over and over throughout the season. An effective way to accomplish this is to create an email campaign that uses a single, standardized format but refreshes the content constantly.
Although email marketing isn't always looked at as new and exciting like social media, it certainly should not be overlooked. Unlike traditional and digital media prices which sky rocket during the holiday season, email campaigns have no associated costs. And with average conversion rates increasing by an impressive 60% during this time period, this tactic is not only financially efficient but is also very effective since the consumers you're reaching are either current customers or at the very least, aware of the company. That fact alone differentiates email from other forms of media since television, social media and banner ads are all served to a larger audience that may not be interested in your product or service. In addition, when considering the prediction that e-commerce will outperform store spending during the 2017 holiday season, it's crucial to take every opportunity to drive customers to your website where they can make a purchase.
As an example of this strategy, on December 1st, we partnered with PayPal to launch an email campaign that will run for the first two weeks of the month, capitalizing on the spike in purchases during these crucial shopping weeks. In fact, of all holiday sales, 27% of purchases happen during the first two weeks of December. The campaign gives recipients a "daily dose of giftspiration," suggesting a different merchant each day and pairing it with a promotional offer. For example, when a customer makes a purchase online through Zales or Dyson, they can use a promo code included within the email, to receive a percentage off their purchase. Beyond the discount, another important aspect of this campaign is being the source of gift inspiration for the recipients. Most individuals have large laundry lists of people they need to purchase something for but have difficulty deciding on what they actually want to buy which creates unwanted stress. By guiding customers through the gift-giving journey every day with new ideas sent directly to their inbox, PayPal helps alleviate stresses of the season.
By combining useful, timely suggestions with a financial offer, PayPal is creating a conversation with their customers that is meaningful and continuous without becoming overbearing and redundant. This specific campaign helps them break through the clutter of the busiest buying season of the year without breaking the budget and simultaneously providing valuable content for their loyal customers.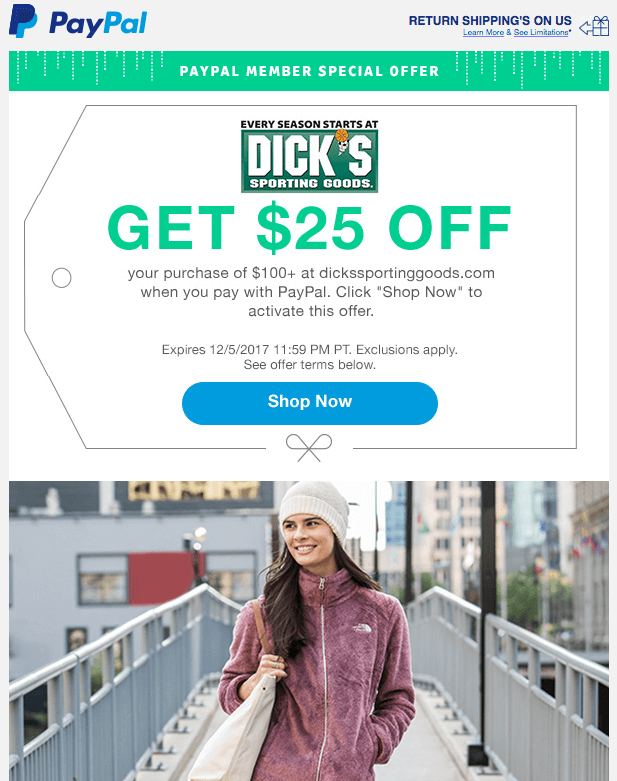 Looking for a partner to help boost your marketing? Drop your contact info below, and we'll reach out.